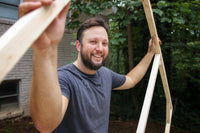 Nelson Wade Studio: Artist Will Brooks
Will has been a builder his whole life -- reaching for a hammer, circular saw, or drill to upgrade his home. One day he challenged himself to create something new out of spare materials in his workshop. First he stretched his own canvas and then he built a frame. After one particularly stressful work week he sat down and proceeded to explore an entirely new form of meditation and self-expression. 
Nelson Wade Studio was founded on an unremarkable afternoon in Decatur, Georgia. Will Brooks is proof that creatively is always evolving and art will fill our lives at unexpected times -- if we allow it. He hopes his paintings ignite the same joy for you that he felt when creating them.