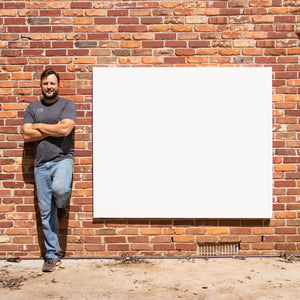 Size in Photo: 57 in. x 68 in.
100% Natural Cotton.
The price of an oversized canvas at a retail store can be several hundred dollars, which is not in my budget as an artist. The art I create is intended to be big and bold and I didn't want the price point a box store set for canvases stop me from creating my art, so I taught myself to stretch my own canvas. 
I use canvas that is best for oil, acrylic, gouache, and encaustic paints. 
Custom sizes are available. Inquire for any dimension you need made.